3
för 2 på Abecita, Pierre Robert, Salming,
Bread & Boxers | Miss Mary 100-180 kr rabatt | Nyheter
från DKNY & Björn Borg
Klicka
här för webbversion.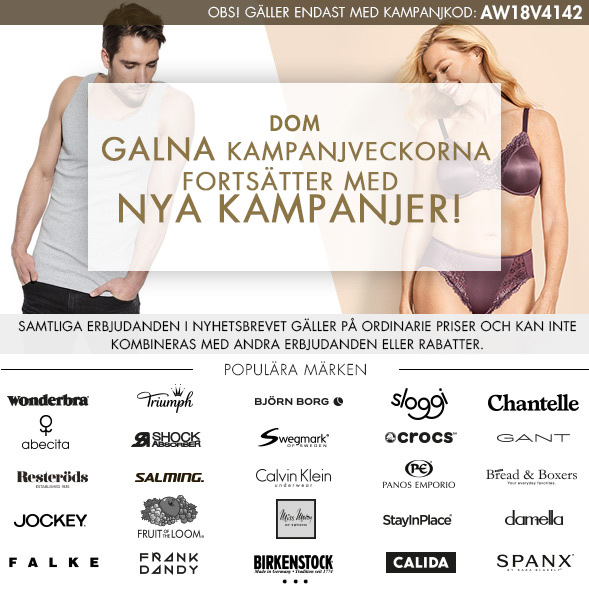 Dom galna kampanjveckorna fortsätter med nya
kampanjer!
Abecita | 3 för 2
Abecita Nancy Soft Bra | 375 kr
Abecita Nancy Maxibrief | 300 kr
Pierre Robert | 3 för 2 (Den billigaste på
köpet)
Pierre Robert For Men Sports Boxer | 169 kr
Pierre Robert For Men Sport Wool Long Sleeve | 399 kr
Miss Mary | BH-kampanj
Miss Mary Elastic Lace Bra | 359 kr
Miss Mary Steady Modern Underwire Bra | 359 kr
Salming | 3 för 2 (Den billigaste på
köpet)
2-Pack Salming Duke Long Bamboo Boxer | 349 kr
Salming Grit Support Sport Bra | 599 kr
Bread & Boxers | 3 för 2 (Den billigaste
på köpet)
Bread and Boxers Crew Neck | 279 kr
Bread and Boxers Crew Neck Relaxed Woman | 279 kr
Triumph | BH-kampanj
Triumph Amourette 300 W BH | 449 kr
Triumph True Shape Sensation W01 | 499 kr
Björn Borg Check Pyjama Pant | 449 kr
2-Pack Björn Borg Solid Comfort Modal Shorts | 399
kr
DKNY Self Titled LS Top and Jogger Set | 1299 kr
DKNY Self Titled Robe | 1099 kr


För mer kanonerbjudanden kolla in vår
outlet!

Vi har Sveriges största sortiment av Sloggi,
Wonderbra, Salming, Hanes, Calida, Triumph, och även
massor med Björn Borg, Calvin Klein, Chantelle,
Abecita och Swegmark m.fl. samt sportartiklar från
Craft, Casall, Shock Absorber, StayInPlace och
Röhnisch. Vi har även ett stort
sortiment av strumpor och skor, däribland Crocs,
Birkenstock och Scholl. Vårt mål
är att bli bäst på
märkesunderkläder,
sportunderkläder, strumpor och skor – alltid med
vår erkända kundservice. Flera nyheter
är hela tiden på väg in.
Låt dig inspireras. Vi har något
för alla.